About the League Operator

        Hello...please let me introduce myself....

   My name  is Sam Rullo Jr. I am the founder and owner of the Laurel Highlands division of The Association for P.O.O.L. (TAP)  I am a part of TAP corporate (Sales director) in which I handle all of the contracts for our new licensees thru out the country.

I have been a known player around the pool scene for years (although I don't play as much as I would like to these days) and have helped to organize and manage some of the very first leagues in the mid 1980's in the Cambria/Somerset area. I have also been directing and promoting local tournaments since the early 1980's. Not only being the first TAP licensee in the state of Pennsylvania and the second oldest TAP licensee in the country in terms of service, I take alot of satisfaction knowing that I was the first person to bring in a sanctioned league, such as TAP, to the Cambria/Somerset area in 1997.With a very humble start of only six teams and 53 players, our loyal members have helped to grow the Laurel Highlands TAP league to expand to 5 counties in Pa and Maryland and a player mailing list of over 5,000  players in the past twenty one years. I also promote and direct the Laurel Highlands TAP Team Titleholders and Shark-Fest events. These events have become the largest and most anticipated pool tournaments in Western Pa.

   I am proud to say that in 2003, I introduced and codirected the new format that is now used at TAP's "Dream Team" event held at Allen Hopkin's Super Billiard Expo in Valley Forge every March. This format has now been adopted for use at all of TAP's national championship team events. TAP was the first and is the only national pool league using this type of format at their major events. I will continue to try new ideas and innovations both on a local and national level for TAP to enhance the experience of league play for you, the player.

   Personally, I remarried in May 2012 to a wonderful lady, Marthica. She has been a great help to me at our Titleholder, Rally and TAP nationals. Stop by and say hello to her at our Titleholders and if you speak Spanish that is always a plus...:) 

   LH TAP has help raise thousands of dollars at benefit events for causes ranging from our own members involved in accidents, children with medical issues and even money for the Flight 93 national memorial fund. LH TAP is just more then a bunch of pool players knocking some balls into pockets and drinking a few beers. I am very proud to be associated with all of you. When I started LH TAP, I simply wanted to bring something new and different to the local players. Never in my wildest imagination did I ever thought it would grow into what LH TAP has come to and meant to the players of this area. Besides my three children, this is one thing in my life that I am very proud of.

   I closing, the sport of pocket billiards has been a love and passion of mine since I was 10 years old. Watching those colored balls disappear from the table has been a addiction far worse then any drug could ever hold on a person. It's the greatest game ever invented. I hope to meet you on the table someday and when we do, I plan on you doing all of the racking!!!

                           As always, 

                      "Good luck and Good Rolls!"

                             Sam and Marthica

           (Sam with his son Mike and Morgan below)

My secretary, Morgan LaRae  (2002 pic) takes a short break after putting a severe  whipping on her dad and here I am (roll mouse over pic) with ladies world champion Alison Fisher getting autographs for a raffle to help raise money for the Flight 93 memorial fund.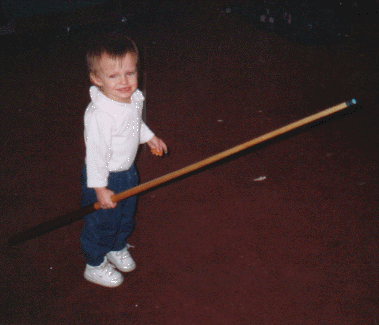 League Office Info

Make all league dues, membership fees and tournament checks out to:

Sam Rullo 

167 Felten Lane

Berlin, Pa. 15530

or you can Paypal it on the store link above.

800-984-7665 ext 2

Cell 814-525-0687

Office Hours

Mon-Fri--9-5 

Please try to keep phone calls within these hours. 

And now I get to watch my daughter Morgan competing in TAP and watching her improve and enjoy the game that has been in my blood for so many years. This pic was at our nationals in Las Vegas in 2017.